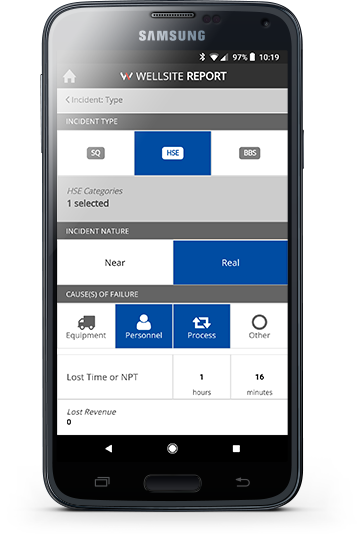 Sales and Account Questions
How much does Wellsite Report cost?We have a flexible pricing model based on number of users and additional custom services you may need. Please visit our Pricing page or contact us for a quote.
Do you offer training?We offer all types of trainings to help you and your employees understand and implement Wellsite Report successfully. Training manuals and online trainings are available for everyone and on-site location training can be arranged. If you are interested in in-person trainings, please contact us or contact your account manager.
Does Wellsite Report work for other industries?Yes! While the language of Wellsite Report is tailored for Oil & Gas, certain areas of the application can potentially be modified to fit your company and industry. If you are a company interested in safety, project management, and custom services, Wellsite Report is for you.
I have a specific need I do not see addressed in Wellsite Report. What can you do for me?Custom development with Wellsite Report may be an option for you. Let's talk about your needs and what we can do to provide additional solutions.
Is my data secure?Wellsite Report is hosted on Amazon Web Services (AWS), the leader in secure web hosting. Your data cannot be accessed by anyone other than your created users. Your data belongs to you and will never be shared without your written consent.
How do I use the data captured by Wellsite Report?Our dashboard gives you an overview of the incidents and projects in your system. If you want to see the full power of big data, we offer data analysis consulting. Reach out for more information.
How often do you update Wellsite Report?Updates – or "Releases" – typically come once a quarter but are not guaranteed. Releases may include (but are not limited to): new features; security updates; back-end coding updates for increased efficiency; improvements to future functionality.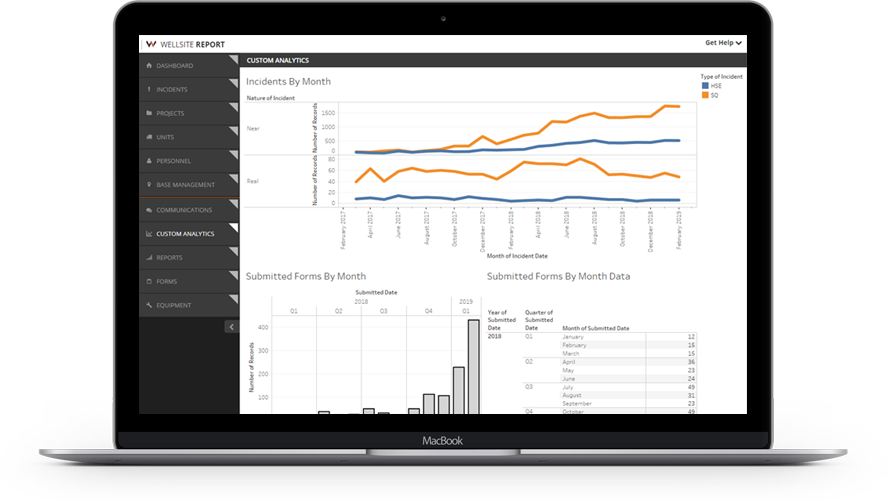 Common Tech Support Questions
How do I reset my password?Visit our blog for our walkthrough of resetting your password.
Can you change my role to Pro user?Pro users in your company may change other users' roles as necessary. If you need to have Pro user abilities, please speak to your company's management team. Wellsite Report will not change a user's role without consent from our account contact.
Does my phone support Wellsite Report?Wellsite Report is available on iOS 8 and up, and Android 4.4 and up. Please note we cannot guarantee quality performance on older devices.
I received an e-mail saying Wellsite Report was updated but I do not see the new changes/features.For the website, you may need to refresh your browser's cache. For help on clearing your browser's cache, click here. For the mobile app, you may need to manually update the app through your app store. In some instances your company needs to opt-in to a new feature before it is visible.
Can I access the full abilities of Wellsite Report through the mobile app?The mobile app is created specifically for the creation of reports while the website is for the management of the reports. If you need to access the management side from your phone you can access the website using your mobile browser.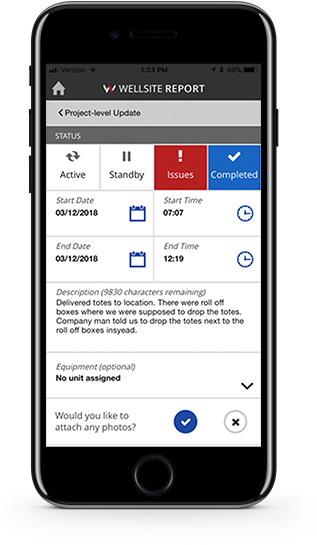 Why Wellsite Report?
If your company prioritizes safety:
If your company wants to manage efficiently:
If your company needs to customize their experience: