Posted on December 11th, 2018 - Posted in Resources | Tips and Tricks
Extension Highlight: Grammarly
When we use Wellsite Report, we often find ourselves wishing for a few extras, small things that can bring our reports to the next level and guarantee that we present the most professional side of our organization. It's a desire most companies have: how do you stand out and make sure you're more than ordinary?
Browser extensions are the perfect way to add the little something extra to your business. There are hundreds of thousands of browser extensions, many of them free, and range from organizational helpers to productivity enhancers. On this blog, we'll regularly share some of the favorites we use in conjunction with Wellsite Report that make us stand out. First and foremost is our all-time favorite!
Grammarly
Have you ever typed up a thorough report in Wellsite Report? Maybe it was a Key Report or Best Practice that was meant to be internal; maybe it was a report meant to go out to your Operator. Either way, these reports are not only a reflection of the company but also you, the author. Sending a report with grammar mistakes can be embarrassing, especially when its dispersed widely or to a business partner. While our inline WYSIWYG editor is great for formatting or styling your content, it does little to assist with grammatical mistakes, and that's where Grammarly comes in.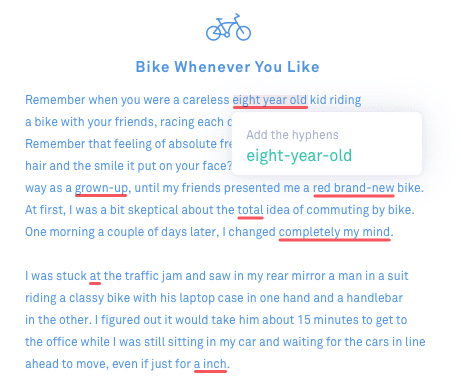 Source: grammarly.com
Grammarly describes itself as a free writing assistant. Immediate responses to grammar mistakes as you type help you avoid the awkward moment when you realize you sent your Operator an important report with the wrong there – or was it their? Ensuring that your reports are grammatically accurate may seem like a small detail in a larger picture, but you'd be surprised: at its worst, improper grammar has led to costly lawsuits. When you use proper grammar, you're viewed more favorably by superiors, business partners, potential clients, and your peers. It's even been proven to increase productivity because there are fewer misunderstandings, meaning fewer meetings and emails needed to clarify mistakes. We love how Grammarly works with Wellsite Report and know that you'll find it beneficial, too.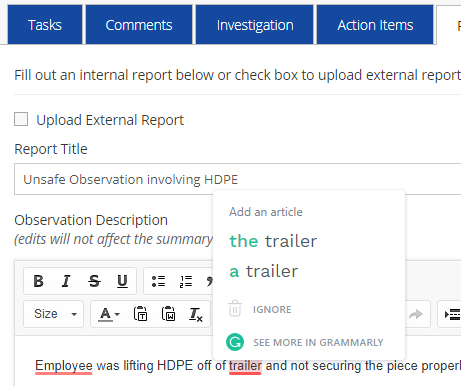 Grammarly used with Wellsite Report
Ready to install? You can download it for Mozilla Firefox and Google Chrome, both for free.
What extensions do you use to help your business? Share with us on twitter! If you want more ideas, check back on the blog soon!
Full disclosure: I used Grammarly to write this blog and found I overuse commas. I also apparently can't spell "embarrassing". Oops.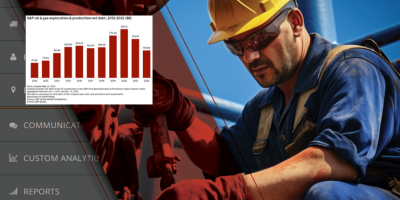 Posted on October 17th, 2023
Posted in Equipment | Management | Oil and Gas | Project Management
First, the good news. Since the height of the pandemic in 2020, exploration and production companies (E&Ps) have reduced their net debt from a high of $316.74 billion to $178.66 billion at the end of 2022. According to CreditSights senior analyst Charles Johnston, most independent E&Ps refinanced and now pay less than the double-digit interest […]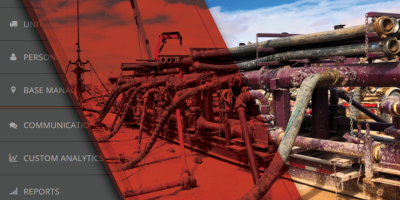 Posted on August 11th, 2023
Posted in Management | Oil and Gas | Project Management | Reporting | Service Quality
Although oil and gas producers are trying to get more out of existing wells than from drilling new ones, 2023 is on pace to be a record year for domestic oil and gas production. In this period of reduced exploration but peak output, wireline service companies and fracking service companies could greatly benefit from using […]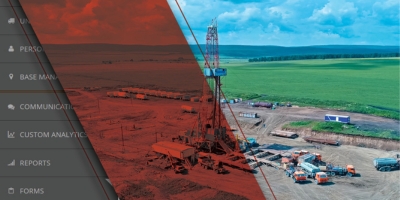 Posted on June 19th, 2023
Posted in Management | Oil and Gas | Project Management | Reporting | Service Quality
Oil exploration is expensive, and not without its risks, but it can be quite lucrative for a production company when a substantial reserve is identified. However, many oil fields are in remote, hard-to-reach locations. Before upstream activities like drilling and extraction can take place, a service company is contracted to construct one or more roads […]
Contact Us
Questions? Contact Us at
INFORMATION@DIGITOIL.COM
Sales/Billing: 1-877-626-7552 EXT 0
for Sales, 1 for Billing
Tech Support: 1-877-208-6153