Posted on March 27th, 2019 - Posted in Management | Reporting | Tips and Tricks
Email Alerts: Integer Fields
Last month, we discussed how powerful Email Alerts are in conjunction with our Equipment Module. Now we are going to dive deeper and show you how powerful Wellsite Report can be in keeping you up to date! Email Alerts have so many configuration options that it may seem intimidating to get started. No need to worry! We can help demystify it for you.
The Basics
Before we start, let's define two important concepts that make up the backbone of Email Alerts:
Field Type – Forms and equipment can have several different types of fields that take different types of input. For instance, Select List fields require you to select a choice from a dropdown menu, while Text fields allow you to type in a response.

Example of Text Field

Field Value – An Email Alert is based on a specific field and its value. Whenever one of your users submits the form or updates the equipment that has that field, we take the value in that field and compare it to a condition. If the value in the field meets that condition, then we send the Email Alert. If it doesn't, then we don't send an email.
In other words, your Email Alerts depend on the type of input and the value of that input. Let's illustrate how this works with one of the more intuitive and flexible field types: Integers. An Integer field is a type of field where users can only enter non-decimal numbers.
Integer Fields
When we have an Email Alert for an integer field, we have several options for setting up the condition:
Has Value – If the field has a value – any value – then the condition has been met and the Email Alert goes out to your chosen users.
Equals
Does Not Equal
Is Greater Than
Is Less Than
Is Greater Than Or Equal To
Is Less Than Or Equal To

Updating Cable to create Email Alert
Put it all Together
Now that we have all the pieces, let's put them together. Suppose we have a wireline cable that we use every day at the jobsite. We don't want to use a cable that might cause issues when running down hole, so whenever our employees use the cable, they update the "Runs" field on the cable in Wellsite Report. We also decide we want to pull a cable out of service and recondition it every 100 runs. Here's where the Email Alert comes in. We set the condition up on the "Runs" field. If the field value of "Runs" is greater than or equal to 100, then we send an Email Alert letting the appropriate users know that the cable needs to be reconditioned.
But what if we don't see the email and our employees keep using that same cable? Every time they update the cable in Wellsite Report, the Email Alert will still go out if "Runs" is greater than or equal to 100.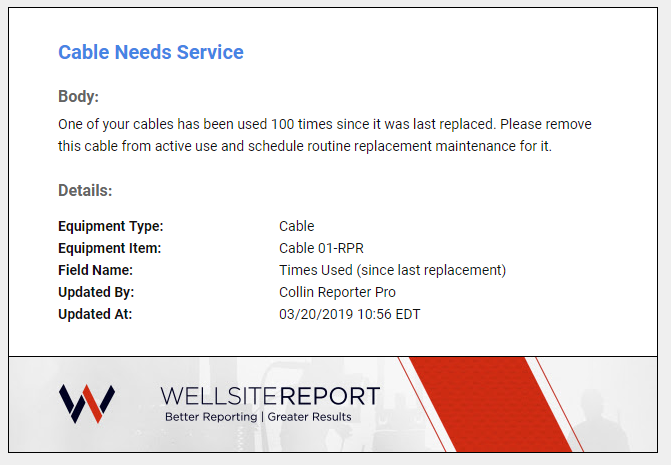 Email Alert selected users receive
If you're eager for more, stay tuned! We'll be covering other field types as well as recurring Email Alerts.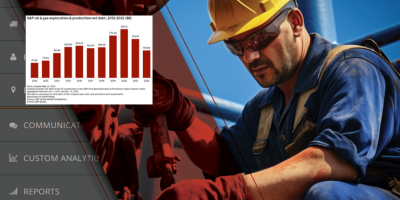 Posted on October 17th, 2023
Posted in Equipment | Management | Oil and Gas | Project Management
First, the good news. Since the height of the pandemic in 2020, exploration and production companies (E&Ps) have reduced their net debt from a high of $316.74 billion to $178.66 billion at the end of 2022. According to CreditSights senior analyst Charles Johnston, most independent E&Ps refinanced and now pay less than the double-digit interest […]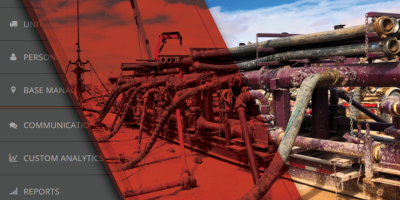 Posted on August 11th, 2023
Posted in Management | Oil and Gas | Project Management | Reporting | Service Quality
Although oil and gas producers are trying to get more out of existing wells than from drilling new ones, 2023 is on pace to be a record year for domestic oil and gas production. In this period of reduced exploration but peak output, wireline service companies and fracking service companies could greatly benefit from using […]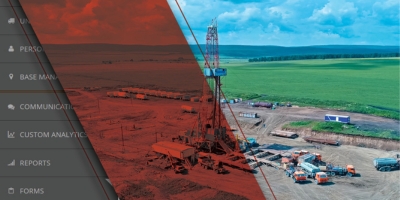 Posted on June 19th, 2023
Posted in Management | Oil and Gas | Project Management | Reporting | Service Quality
Oil exploration is expensive, and not without its risks, but it can be quite lucrative for a production company when a substantial reserve is identified. However, many oil fields are in remote, hard-to-reach locations. Before upstream activities like drilling and extraction can take place, a service company is contracted to construct one or more roads […]
Contact Us
Questions? Contact Us at
INFORMATION@DIGITOIL.COM
Sales/Billing: 1-877-626-7552 EXT 0
for Sales, 1 for Billing
Tech Support: 1-877-208-6153