Posted on July 20th, 2021 - Posted in HSE | Management | Oil and Gas | OSHA | Safety
Pipeline safety news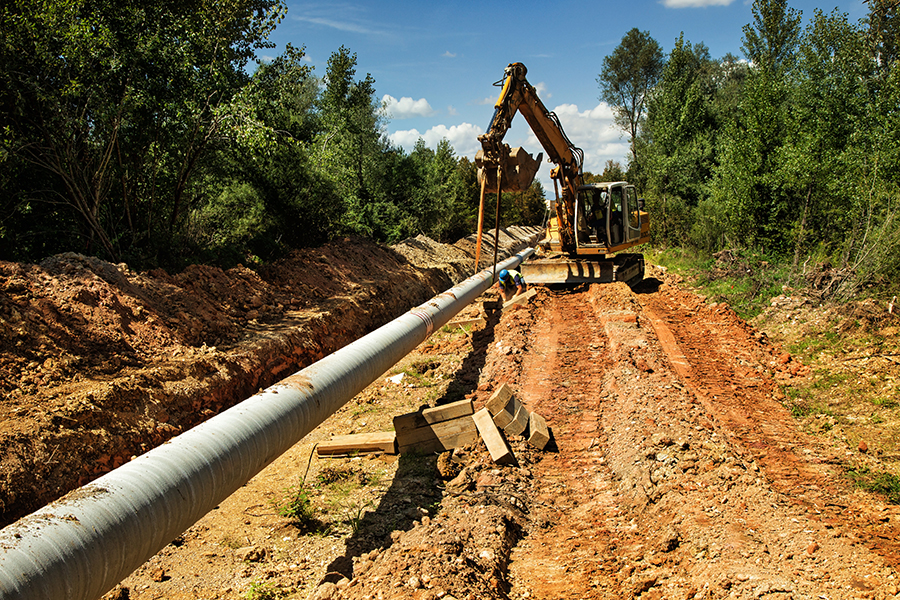 With rig counts and drilling permits on the rise, pipeline construction and expansion isn't far behind. According to the Bureau of Transportation Statistics (BTS.gov), the mileage of natural gas pipelines has grown from 1,377,320 miles in 2000 to 1,645,101 miles in 2020, a 16% increase. Likewise, miles of oil pipelines have increased from 158,248 in 2001 to 224,928 in 2019, a 29.6% increase.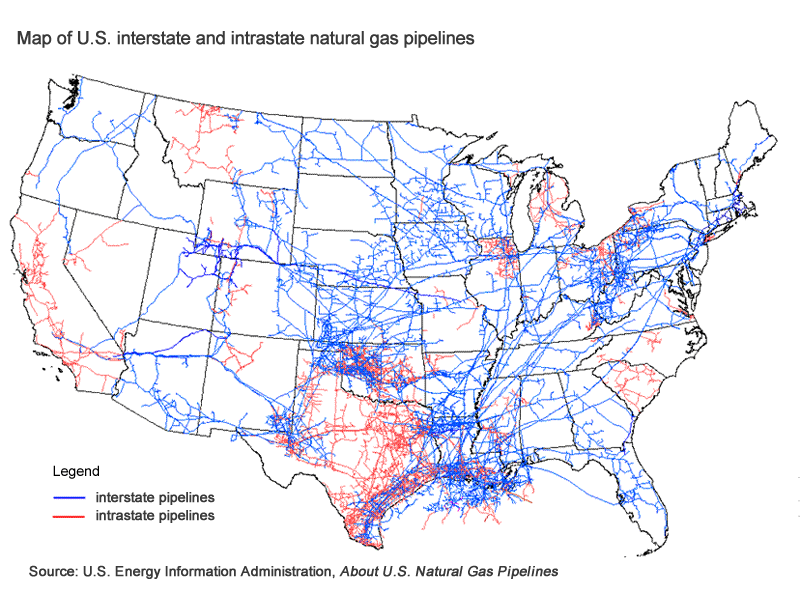 There's been some bad news 
In August of 2020, North Carolina experienced the largest gas leak in the state's history: A leaking pipe sleeve in Huntersville caused 1.2 million gallons of gas to spill before two teenage boys discovered and reported the leak. And you've undoubtedly heard about the imperfect storm this month when lightning ignited a gas pipeline leak that caused a fire in the Gulf of Mexico. What's more, a pipeline pumping station leak caused the fatalities of three technicians in Iran on July 6.
According to the Pipeline and Hazardous Materials Safety Administration, there are four main causes of gas pipeline leaks:
Corrosion (external, internal, stress corrosive cracking, and selective seam corrosion): 24%
Equipment Fault: 23%
Excavation Damage: 17%
Material or Weld Failure: 10%
Here's the good news
While the amount of pipeline mileage has consistently grown over the past 15+ years, the number of spill incidents affecting U.S. waterways has declined considerably.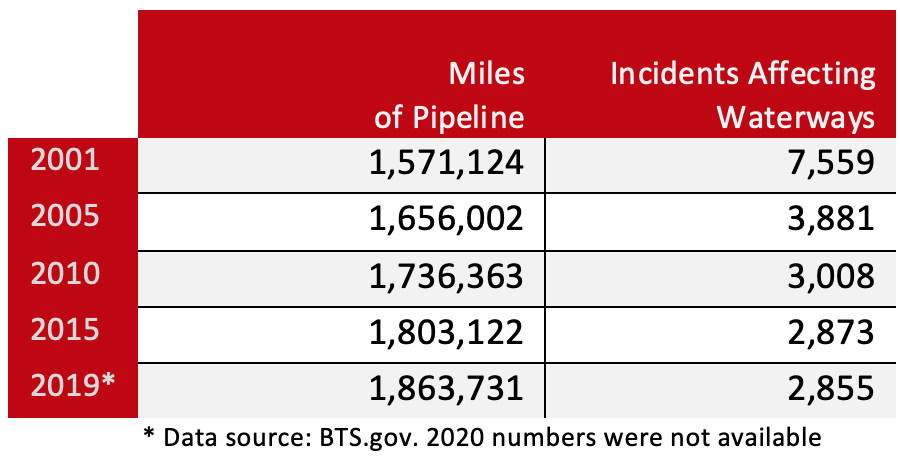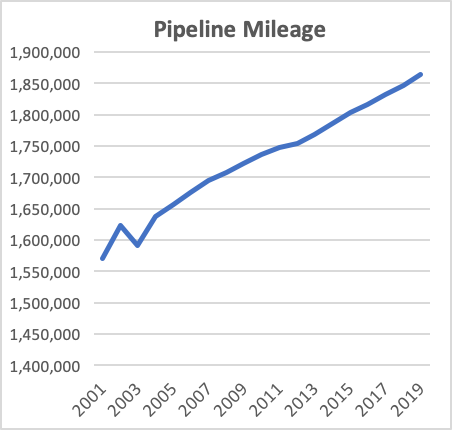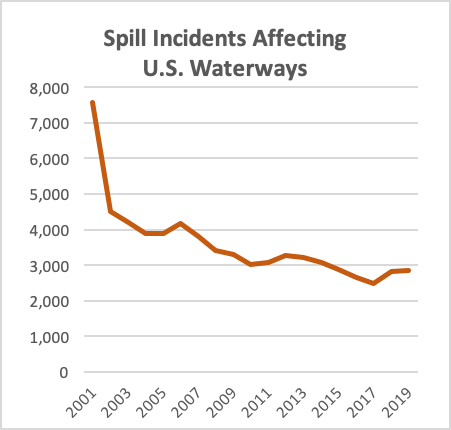 Pipelines continue to be the most efficient and economical means of energy transportation by far. The oldest natural gas pipelines — many 60 years old or older — were constructed from cast and wrought iron which are more easily corroded. The Pipeline Safety, Regulatory Certainty, and Job Creation Act of 2011 called for a survey monitoring the replacement progress of these iron pipelines. By end of 2020, 97% of all gas pipelines were made of more durable plastic or steel.
Don't let the next news story in the pipeline be about your pipeline.
From construction to midstream transportation, Wellsite Report can help you manage your pipeline projects. Our real-time incident reporting includes a summary, location, and incident type. Photos can also be attached to provide more details. But we're more than just reporting software. Use Wellsite to assign corrective actions and ensure incident resolution workflow and follow-up. As tasks are done, they can be marked "complete" in the app, so there's never any question about the status of work.
---
"My WSR hasn't updated, what's up with that?"
Try clearing your browser's cache. If you still don't see all our awesome updates, contact us.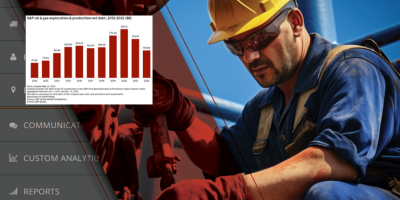 Posted on October 17th, 2023
Posted in Equipment | Management | Oil and Gas | Project Management
First, the good news. Since the height of the pandemic in 2020, exploration and production companies (E&Ps) have reduced their net debt from a high of $316.74 billion to $178.66 billion at the end of 2022. According to CreditSights senior analyst Charles Johnston, most independent E&Ps refinanced and now pay less than the double-digit interest […]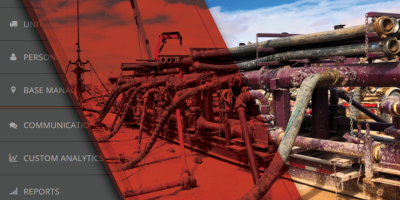 Posted on August 11th, 2023
Posted in Management | Oil and Gas | Project Management | Reporting | Service Quality
Although oil and gas producers are trying to get more out of existing wells than from drilling new ones, 2023 is on pace to be a record year for domestic oil and gas production. In this period of reduced exploration but peak output, wireline service companies and fracking service companies could greatly benefit from using […]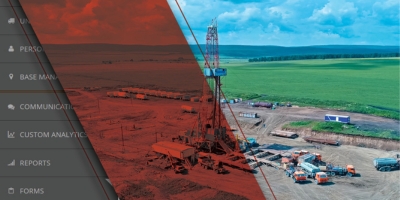 Posted on June 19th, 2023
Posted in Management | Oil and Gas | Project Management | Reporting | Service Quality
Oil exploration is expensive, and not without its risks, but it can be quite lucrative for a production company when a substantial reserve is identified. However, many oil fields are in remote, hard-to-reach locations. Before upstream activities like drilling and extraction can take place, a service company is contracted to construct one or more roads […]
Contact Us
Questions? Contact Us at
INFORMATION@DIGITOIL.COM
Sales/Billing: 1-877-626-7552 EXT 0
for Sales, 1 for Billing
Tech Support: 1-877-208-6153