Posted on March 17th, 2020 - Posted in Management | Project Management | Software Update
Release Notes – 2.6.6
New in Custom Forms
Dynamic Fields and Fieldsets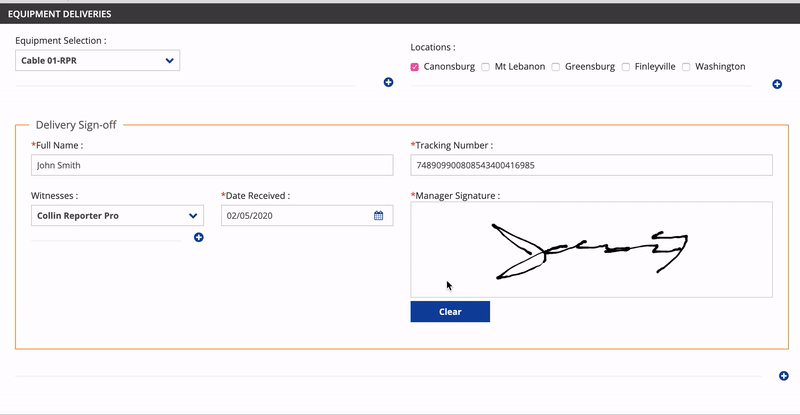 Forms and equipment can implement our new dynamic "repeating" feature. This allows you to add or remove selected fields as many times as needed
All forms can incorporate customizable fieldsets built specific to your needs
So, why use Fieldsets?

Group and section-off any fields to organize your forms and make them more readable
Make them dynamic with the option to add or remove individual fields and entire sets

To find out more or request these features, contact your Account Administrator!
Discard your outdated forms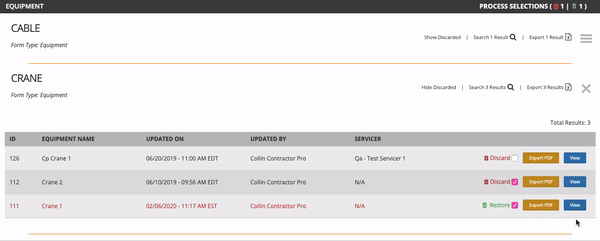 With one click of a button, Pro users can send their form submissions and equipment to the "recycling bin" at any time
Clean the records and keep your forms relevant by discarding submissions that aren't necessary
And swiftly retrieve any "recycled" items and restore them

Keep in mind that this won't permanently erase your data

In short, easily control which forms are to be displayed and which are to be discarded then switch back and forth as needed
Export Forms and Equipment data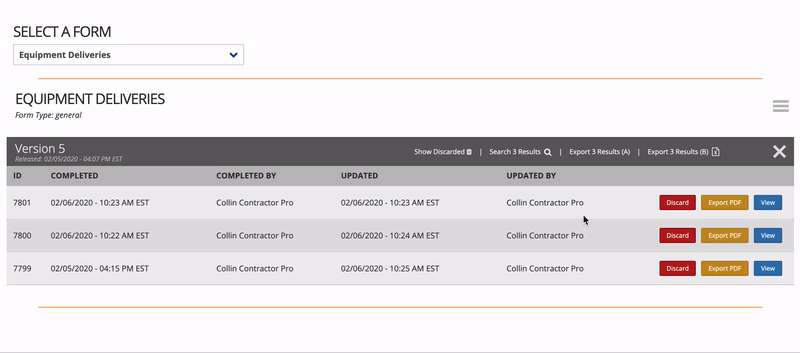 Using our new dynamic fields? A second option for Excel exports will show up automatically allowing you to export data in two formats:

Horizontally, with field values listed on new columns
Or vertically, with field values listed on new rows
New alternative to display checkbox and radio fields

At times, these fields contain a long list of options or simply the layout of the form could benefit from a different display. In order to address this, we added the alternative to display the options vertically, one item per line.
Pro users make this choice, just contact your Account Administrator to adjust forms as needed
Even more improvements for Forms and Equipment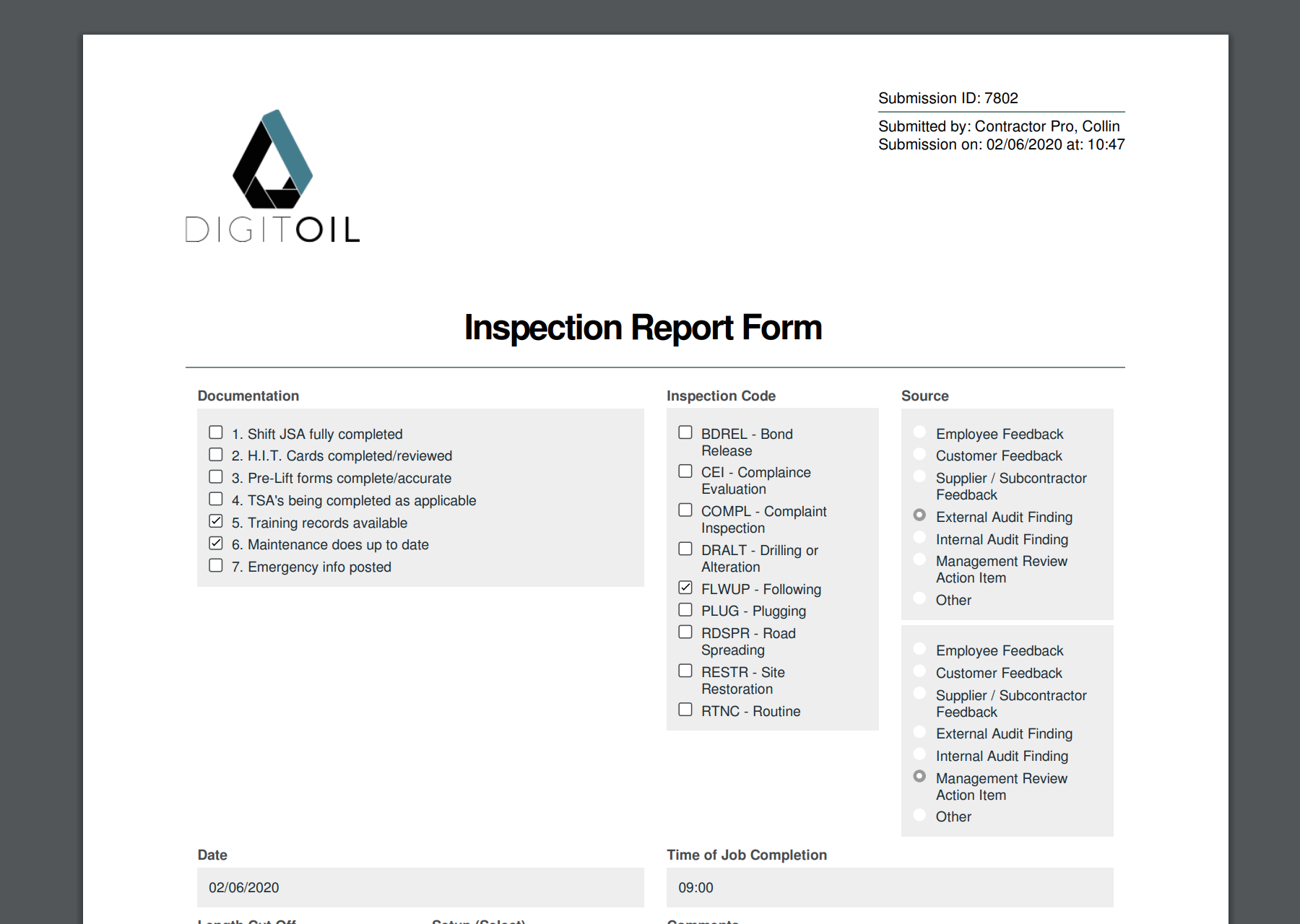 Forms and Equipment PDF exports now list all checkbox and radio fields as displayed on our web app, thus offering a better visual
Search and filter forms, navigate away or into a submission, now navigate back to the search results and find all your filters persisted
Form submissions associated to a Project can be optionally shared as well, when that Project is shared

In other words, it allows Operators to view form submissions related to their Contractor Projects and vice versa
Other new features and improvements
Search Incidents, Tasks or Projects filtering by Operator, be it external Operators, Operators registered with us, or in case of neither, by missing operator!
Send mass SMS messages across your company to all personnel under a specified default base.

Save time by selecting multiple recipients at once
Tick one box to include all personnel from a selected base and set it to "default" only
Consequently, prevent users assigned to multiple bases from receiving duplicate text messages

Multiple bug fixes
---
"My WSR hasn't updated, what's up with that?"
Try clearing your browser's cache. If you still don't see all our awesome updates,
contact us
.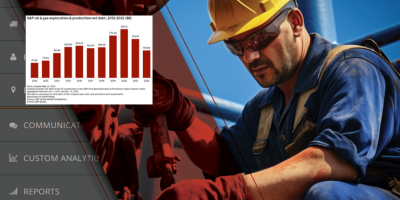 Posted on October 17th, 2023
Posted in Equipment | Management | Oil and Gas | Project Management
First, the good news. Since the height of the pandemic in 2020, exploration and production companies (E&Ps) have reduced their net debt from a high of $316.74 billion to $178.66 billion at the end of 2022. According to CreditSights senior analyst Charles Johnston, most independent E&Ps refinanced and now pay less than the double-digit interest […]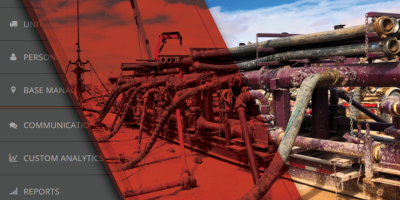 Posted on August 11th, 2023
Posted in Management | Oil and Gas | Project Management | Reporting | Service Quality
Although oil and gas producers are trying to get more out of existing wells than from drilling new ones, 2023 is on pace to be a record year for domestic oil and gas production. In this period of reduced exploration but peak output, wireline service companies and fracking service companies could greatly benefit from using […]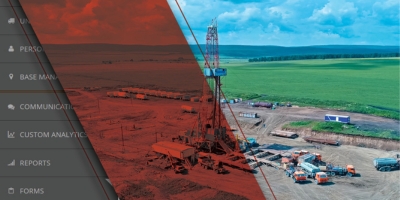 Posted on June 19th, 2023
Posted in Management | Oil and Gas | Project Management | Reporting | Service Quality
Oil exploration is expensive, and not without its risks, but it can be quite lucrative for a production company when a substantial reserve is identified. However, many oil fields are in remote, hard-to-reach locations. Before upstream activities like drilling and extraction can take place, a service company is contracted to construct one or more roads […]
Contact Us
Questions? Contact Us at
INFORMATION@DIGITOIL.COM
Sales/Billing: 1-877-626-7552 EXT 0
for Sales, 1 for Billing
Tech Support: 1-877-208-6153